This program provides free admission to 20 unique cultural destinations throughout the Chicago area to library card holders at 160 suburban public libraries.
This special opportunity is made possible by generous contributions from various sponsors, the participating cultural organizations, and the many suburban public libraries throughout the Chicagoland metropolitan area.
The program is growing as we work to expand the number of museums and libraries in around Chicago and elsewhere. Visit http://www.museumadventure.org/  for more information about this wonderful program for your library!  It provides information about the program, and list of participating museum and libraries. Since 2009, participating libraries have issued hundreds of thousands of passes to the great cultural institutions that participate in this program.
If you haven't already, consider visiting your library and checking out a museum adventure pass!
For more information about this worthwhile program, please contact Skip Mosshamer at Libraries First or call 262.233.0005.
Click on the literature below to download a print-quality PDF that you can reproduce at your location.
Museum Adventure Pass Brochure (English) – PDF
Museum Adventure Pass Brochure (Spanish) – PDF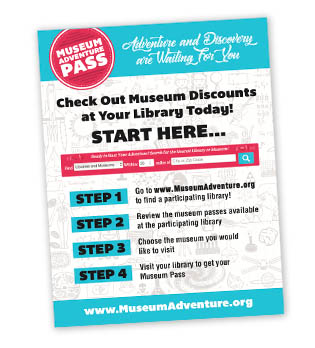 Museum Adventure "Get Started" Flyer (English) – PDF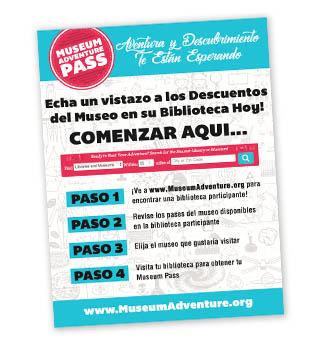 Museum Adventure "Get Started" Flyer (Spanish) – PDF